SpikeTV Scream Award Nominations for Half-Blood Prince Film and Actors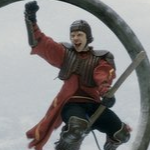 Aug 31, 2009
Nominations were announced today for the fourth annual Scream Awards, which honor the "best in sci-fi, fantasy, horror, and comic genres." The Harry Potter and the Half-Blood Prince film, along with its actors, were nominated in nine categories, picking up nods in a number of traditional and unique categories. On the film side, the Half-Blood Prince film was recognized in the Best Sequel, Best F/X, and Best Fantasy Movie categories. A number of actors were also nominated for their respective roles in the film, including Daniel Radcliffe (Harry Potter) for Best Actor in a Fantasy Movie or TV Show, Emma Watson (Hermione Granger) for Best Actress in a Fantasy Movie or TV Show, Rupert Grint (Ron Weasley) for Best Supporting Actor, Evanna Lynch (Luna Lovegood) for Best Supporting Actress, and Helena Bonham Carter (Bellatrix Lestrange) for Best Villain. Finally, the the "Death Eaters Attack London" scene was nominated in the unique and original Holy **** Scene of the Year category. The sixth film is up against such other films as Up, Twilight, Coraline, Watchmen, and X-Men Origins: Wolverine in the Best Fantasy Movie category.
Voting is now open for the awards, and runs through October 17th. Click here to vote for your favorites.
The fourth annual Scream Awards are set to be broadcast on October 27th at 10:00pm EST on US cable network SpikeTV. A taping of the awards ceremony will take place on October 17th at the Greek Theater in Los Angeles, California.
Many congratulations to all!