Ian Rankin Says JK Rowling "Writing Family Trees" and Working on Scottish Book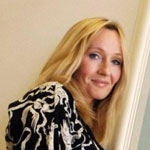 Sep 04, 2009
Author Ian Rankin has given a new interview on BBC radio with Simon Mayo (download here) where he mentions his friend and neighbor in Scotland, J.K. Rowling. In the middle of this interview, Mr. Rankin notes that while he has not seen the Harry Potter author in some time, he said she "was working on her Harry Potter encyclopedia" and "drawing family trees for all the characters, going back generations." This of course is not a surprise as Jo has said many times in the past that she is working again on various projects, as highlighted last year when she confirmed she was writing again in cafes, and has often expressed her desire to create the definitive encyclopedia of the beloved Harry Potter world.
Please note, as exciting as this is, we stress that it is important to release Mr. Rankin did not say or imply the Scottish book was to be released any time soon, again just noting he had seen her working on the book aka "The Scottish Book" as she first referred to the name during the interview with PotterCast in December, 2007.
Thanks to all who owled!