President Obama Includes Harry Potter Story in Education Speech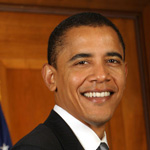 Sep 07, 2009
Tomorrow President Barack Obama will address the nation as it goes back to school; the pre-released text of his speech (which you can read here) includes remarks on the beginnings of Harry Potter as proof that not all great ideas or ventures are accepted as such to start:
style="margin: 0in 0in 10pt;">
But the truth is, being successful
is hard. You won't love every subject you study. You won't click with
every teacher. Not every homework assignment will seem completely
relevant to your life right this minute. And you won't necessarily
succeed at everything the first time you try.
style="margin: 0in 0in 10pt;">
That's OK. Some of the most
successful people in the world are the ones who've had the most
failures. JK Rowling's first Harry Potter book was rejected twelve
times before it was finally published. Michael Jordan was cut from his
high school basketball team, and he lost hundreds of games and missed
thousands of shots during his career. But he once said, "I have failed
over and over and over again in my life. And that is why I succeed."
style="margin: 0in 0in 10pt;">
These people succeeded because they
understand that you can't let your failures define you ' you have to
let them teach you. You have to let them show you what to do
differently next time. If you get in trouble, that doesn't mean you're
a troublemaker, it means you need to try harder to behave. If you get a
bad grade, that doesn't mean you're stupid, it just means you need to
spend more time studying."
Pres. Obama will deliver the address at Wakefield High School in Arlington, Va., at 10 a.m. MDT; it will be live on the C-SPAN cable channel and streamed life at whitehouse.gov/live.