Confirmed! Harry Potter and the Half-Blood Prince DVD Due December 8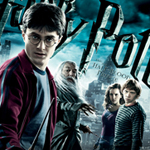 Sep 17, 2009
For months (starting in June, again in July) we've been reporting the Harry Potter and the Half-Blood Prince DVD would be out this December, despite reports that official dates would not be released until the last possible moment. Today, Warner Bros has announced that yes indeed the DVD will be released here in the US on December 8th. Thanks to DVDTimes, we can see more looks at the officially confirmed artwork at this link. Update: Artwork now here and here and high res back cover in our galleries. As noted several times before, the DVD will be released on Blu-Ray, 2-Disc, a special combo set and standard one disc editions.
A reminder too that as first reported here, the DVD will contain the special J.K.Rowling, A Year in the Life documentary, several deleted scenes (list here) as well as cast interviews, a feature on the Wizarding World of Harry Potter theme park attraction, and behind the scenes look at the making of HBP. Update: Again as TLC first reported, these items are now confirmed to be on the Half-Blood Prince DVD as Video Business reports:
Half-Blood Prince will street as a single DVD ($28.98), a two-DVD special edition ($34.99) and a Blu-ray Combo Pack ($35.99).The Blu-ray version will include the WB Maximum Movie Mode with the
stars, director and producers, and BD Live with Facebook Connect, with
which fans can invite their Facebook friends to a BD Live Community
Screening. Both the Blu-ray and two-DVD editions will include digital
copy, as well as featurettes on the cast and crew, the life of books
series author J.K. Rowling, additional scenes and a sneak peek at the
Universal Orlando Resort's The Wizarding World of Harry Potter theme
park.
DVD Town also gives new details on a few of the bonus features:
Close-Up with the Cast and Crew of Harry Potter: Hosts Matthew Lewis
("Neville Longbottom") and Alfred Enoch ("Dean Thomas") lead us on an
entertaining look at the cast of Harry Potter as they explore their
interests away from acting and spend a day on set with the production
team (28:30)
One Minute Drills: The cast has 60 seconds to describe their
character's personality, history, relationships and other traits before
time runs out (6:43)
What's On Your Mind: Hosted by Tom Felton, the cast is put on the
spot when asked a series of rapid-fire questions on their likes and
dislikes. (6:41)
Please note: We are working to confirm the UK release date for the DVD. Also as we first reported earlier this month, France will see the DVD on November 18, with that gorgeous Hogwarts Castle deluxe edition due out on the 16th, and Australia will see the HBP released on November 30th.