Pre-Orders for JK Rowling "Female Force" Comic Book Now Available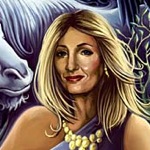 Sep 23, 2009
Earlier this month we told you of a new biographical comic book about Harry Potter author J.K. Rowling that is due in a few months. The press on this book said the comic "promises to chronicle the rags to riches story of a woman
receiving government financial assistance through her ascendancy in
becoming one of the world's most recognizable writers." Pre-orders for the comic are now available here at this link, with the date now showing a January 13, 2010 release.
Thanks Randy!