Deathly Hallows Filming Update: 100 Extras Used for Hogwarts Express Scene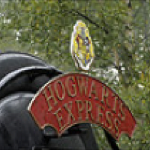 Sep 24, 2009
An update today regarding filming for Harry Potter and the Deathly Hallows. First, there is more on the filming in Scotland for a scene involving the Hogwarts Express. The Press and Journal reports:
"The Harry Potter crew were making a return to the
Highlands and the west Highland railway line was once again the
location for filming this week, with about 100 pupils from Lochaber
High School at Fort William taking part in the filming as extras.The picturesque route was chosen for some scenes in two
previous J.K. Rowling epics and now the film-makers are back to shoot
the seventh and last film, Harry Potter and the Deathly Hallows.
On this occasion, views of Glenfinnan Viaduct, which
has featured in the previous Harry Potter blockbusters, were not
required. Instead, the young teenagers were bussed to Tulloch Station,
east of Roy Bridge. The camera action focused on Hogwart's Express as
the blood-red train steamed between Tulloch and Rannoch stations with
its excited young passengers."
Interestingly a second piece on the filming noted "The scenic route was chosen for some of the shooting of scenes for not
one, but two epics, out of JK Rowling's seventh and last best seller,
Harry Potter and The Deathly Hallows." We do not know if this for an additional scene or simply the epilogue scene or what this may be used for. As noted previously with the photos from the other day, no cast was present, or what scene this may be, stay tuned!
Also, we had heard previously from actors Jason Isaacs and Dan Radcliffe that filming would continue well into the next year, with Jason recently noting he would not be finished filming until April. The Independent has a brief mention of actor David Thewlis, who plays Lupin, where it notes that "Thewlis is filming the final
instalments of Harry Potter until March." Please note while likely to be true, this is not a direct quote from David Thewlis, just a mention in an article with his partner Anna Friel, and has not been confirmed.