Live PotterCast Tonight!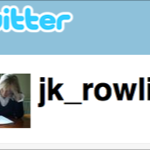 Sep 25, 2009
UPDATE: The show has now concluded, thanks for joining us!
Hey all! Please join us tonight for a live PotterCast tonight on Ustream, starting shortly at 6:45pm (Eastern). There is lots to talk about tonight including DVD news, Princely Pieces; so much it's got us all atwitter … 😉
Listening is easy via this link, but remember you need to register (free!) to join in the text chat. See you soon!