PotterCast 205: Nosey Neighbors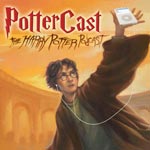 Sep 29, 2009

PotterCast, our Harry Potter podcast, is here with the 205th episode of Potter fun, news, discussion, and more for your enjoyment. This episode features a special report from our own Melissa, who got an advance look at the upcoming Wizarding World of Harry Potter Theme Park in Orlando, Florida. First, Sue's News covers the LEGO Potter toys re-launch, Deathly Hallows filming news, upcoming Half-Blood Prince DVD features, and an update on the Scottish Book. Next, Princely Pieces continues walking through the sixth Potter film, picking up where we left off with Harry arriving at the Burrow to meet up with the Weasley family and Hermione. The Deathly Hallows Bit-by-Bit picks up at Chapter 22, where we learn of the "Tale of the Three Brothers" in the Beedle the Bard book care of one Xenophilius Lovegood. Up next, we hear from Melissa on her recent visit to the Harry Potter theme park in Orlando, Florida. In this segment, Melissa walks us through her experience at the park and gives us the latest news of the upcoming Harry Potter portion of the park. Check back next week for news and information on LeakyCon 2011, our next Harry Potter fan conference in Orlando, Florida. The show wraps up with more on Melissa's AVON Walk for the Cure, the next round of donor shoutouts, and much more.
As
a reminder, the LeakyCon DVD, which will be available to pre-order soon, will also include all wizard rock performances from our conference. If you like live wizard rock, be sure to reserve your copy of the upcoming LeakyCon Live Album of the wizard rock live shows at our LeakyCon 2009 conference. To listen, just hit the "Play" button on the right side of the page (–>), or use iTunes, or direct download.
"Nosey Neighbors"
RT: 96:05
Also, special thanks to our ever-vigilant UStream Mods for monitoring the live PotterCast recordings.
LeakyCon 2011: A Harry Potter Conference in Orlando!
"Harry, A History" Website
Jingle Spells 2
PotterCast Vlogs
Podcast Alley
Digg
Remember you don't need an iPod to listen. Listen easily on iTunes, which you can download and install here, by clicking here to listen, or you can just use the streaming Flash player at PotterCast.com or just on the right side of this page. Discussion of the PotterCast is right here. Enjoy!