Bonnie Wright to Judge Sustainable T-Shirt Design Contest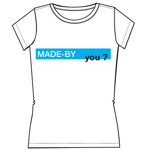 Sep 30, 2009
Actress Bonnie Wright (Ginny Weasley) will be on the judging panel for an upcoming competition to create an sustainability themed T-Shirt for the Edun fashion brand. Starting October 1st, design entries will be accepted by Made-By, a not-for-profit labeling organization for fashion brands, where the general public will be able to vote for their favorite design when the submission period ends. Then, Miss Wright, along with Georgia Groome, Summer Rayne Oakes (the US eco-model), Claudia Straatmans (Editor-in-Chief of Cosmopolitan, Netherlands) and Ali Hewson (wife of Bono and founder of Edun), will pick the winner out of the top ten designs. This contest will look towards the new wave of eco-conscience, sustainable designs from new and young designers. In a press release sent directly to TLC, Miss Wright is quoted as saying:
"It is vital that my generation understand the importance of ethical
fashion, so anything we can do to raise awareness of this cause is
extremely worthwhile. I am looking forward to seeing the variety of
designs. The sustainable theme certainly offers scope for some
creativity."
The Edun Fashion Brand aims "to create beautiful clothing, while fostering sustainable employment in developing areas of the world, in particular, sub-Saharan Africa." For complete information on this competition, and to enter your design, those interested can click right here.
Thanks Henry!