PotterCast 206: Tweetity Tweet JK Rowling!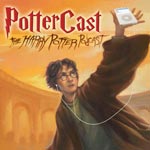 Oct 08, 2009

The very latest episode of PotterCast, our Harry Potter podcast, is now online for your listening pleasure. Sue's News kicks off our 206th episode with a run down on all of the upcoming Harry Potter DVDs, as well as news regarding Harry Potter author J. K. Rowling's official Twitter. The next installment of Princely Pieces follows with an examination of the Spinners End scene in the sixth Potter film. Next, the Potter Pundits get in the Halloween spirit with a discussion highlighting Harry Potter set in the context of Gothic literature. Finally, the show wraps up with another J. K. Rowling Twitter update, Melissa's most uneventful week, Frankie's self-published sketch book, and so much more.
As
a
reminder, the LeakyCon DVD, which will be available to pre-order soon,
will also include all wizard rock performances from our conference. If
you like live wizard rock, be sure to reserve your copy of the upcoming
LeakyCon Live Album of the wizard rock live shows at our LeakyCon 2009 conference. To listen, just hit the "Play" button on the right side of the page (–>), or use iTunes, or direct download.
"Tweetity Tweet JK Rowling!"
News on the slew of Potter DVDs and special features.
J. K. Rowling's got a Twitter.
Spinners End impressions on Half-Blood Bits/Princely Pieces.
Potter Pundits talk Potter and Gothic Literature.
Melissa's buggy week.
Lady Gaga was with Kermit.
"I'm a snake!"
AVON Walk for the Breast Cancer Cure! DONATE HERE!
Follow our LeakyCon 2011 Twitter and become a fan on Facebook!
Reserve your copy of the LeakyCon Live Album now!
RT: 64:21
Also, special thanks to our ever-vigilant UStream Mods for monitoring the live PotterCast recordings.
LeakyCon 2011: A Harry Potter Conference in Orlando!
"Harry, A History" Website
Jingle Spells 2
PotterCast Vlogs
Podcast Alley
Digg
Remember you don't need an iPod to listen. Listen easily on iTunes, which you can download and install here, by clicking here to listen, or you can just use the streaming Flash player at PotterCast.com or just on the right side of this page. Discussion of the PotterCast is right here. Enjoy!