Winners of Albus Severus Meets Peeves Contest Announced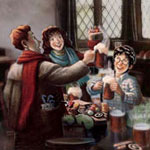 Oct 10, 2009
Last month, our Contest Crew brought you the Albus Severus Meets Peeves Contest which asked you to create an original 500-word or less story about the young Albus Severus Potter meeting Peeves, the Hogwarts poltergeist, for the first time. After receiving many splendid entries, the winner of this contest has now been chosen. The winners are:
The first place winner of this contest will receive a custom made wand from from Wizard Wood Wands. Each winner will receive MyLeaky points for their efforts.
Congratulations to all!