Trailer for Harry Potter Wizarding World DVD Game; Deathly Hallows Photos Due with Collector's Editions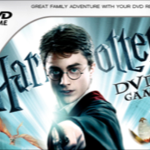 Oct 11, 2009
As announced earlier, WB will be releasing Harry Potter: Wizarding World DVD game on December 1st, just a few days before the release of Half-Blood Prince and the special Ultimate Collector's editions DVDs. As such Amazon.com has a brand new trailer for the DVD game which you can see right here in our Video galleries. Last month we told of the details for the game which covers elements from Harry Potter movies Goblet of Fire, Order of the Phoenix and Half-Blood Prince, with pre-orders for this game now available.
Several related notes as well. First, scores of you let us know about an article from DVD times with a few new details on the Harry Potter and the Half-Blood Prince DVD that is due to be released in the UK on December 7th, and here in the US on December 8th. While some of these details have been posted several times previously, it is worth highlighting the fact that many cast members are hosting separate features found on the DVD including Evanna Lynch on her jewelry designs (Evanna personally designed Luna's earrings and the Lion hat both used in the films) and more from Rupert, Bonnie, James Phelps and Jessie Cave.
Close-Up With The Cast of Harry Potter (trt: 28:30) (Hosts
Matthew Lewis ("Neville Longbottom") and Alfred Enoch ("Dean Thomas")
lead us on an entertaining look at the cast of Harry Potter as they
explore their interests away from acting and spend a day on set with
the production team.)

Editing with Daniel Radcliffe: Daniel and editor Mark Day have a light-hearted conversation about film editing and how to get the right shot for a scene
Special Effects with Matthew Lewis, Oliver Phelps and Tom Felton: The guys get a "science lesson" from Special Effects Supervisor John Richardson and technician Matthew Harlow.
Owl Training with Jessie Cave: Jessie heads outside for training tips with "hootie" and owl trainer Guillaume Grange.
Stunt Training with Rupert Grint: Rupert shows off his thrill for danger with the stunt department.
Costume Designs with Evanna Lynch: Evanna shares her jewelry designs with Costume Designer Jany Temime.
Art with Bonnie Wright: Bonnie and graphic designer Eduardo Lima show off the fun props, products and set designs.
Behind the Camera with James Phelps: In his debut performance in the assistant director department, James actually becomes a crew member on set.
Make-Up with Emma Watson: Emma and designer Amanda Knight talk about the biggest challenges on this year's film.
Also pre-orders for the Video on Demand for HBP are now available. As TLC told you earlier, this option would not be available until December 15, a week after the release of the DVDS; more on the pre-order for this viewing option found here.
Finally, last month TLC also told you the US official WB Harry Potter DVD website had been updated with the info on the Half-Blood Prince DVD. Also posted were pages on the highly anticipated Ultimate Collector's Editions. While there is so much information on the DVDS (see our posts here and here) many of you are just now noting the following: Yes indeed, there will be a special "48-page Photo Book never-before-seen images from Years 1-7." Year Seven is indeed Harry Potter and the Deathly Hallows


Stay tuned!