Master Class for Harry Potter Cast Today from Ralph Fiennes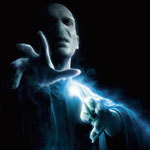 Oct 30, 2009
There was another thrill- inspiring twitter today, this from actor Matt Lewis (Neville) regarding the ongoing filming for Harry Potter and the Deathly Hallows. While we knew that 43 principals are currently involved, and the calibre of the actors in the movies has long been established, the cast are clearly enjoying and reveling in the moment, witness the following: "Ralph Fiennes is cool as. Lovely bloke too. Gave us quite the acting masterclass today. What a performance!" Matt's castmate and friend Tom Felton (Draco) agreed with the following "Had a great day on set. This film will be EPIC! @Mattdavelewis was throwing jokes….I was catching them. He's a complete gent x"

While not officially announced, TLC believes these sequences are indeed for the battle of Hogwarts, with the award winning Ralph Fiennes of course portraying Lord Voldemort. Production on Deathly Hallows continues at Leavesden studios, with part one due a little over a year from now in November, 2010.
---
Leaky's Harry Potter Twitter list is the most exhaustive collection of news and official Harry Potter information in the world. Be sure to follow it today!