Dan Radcliffe as Harry Potter: An Icon of the Decade Cover for Empire Magazine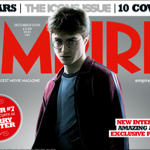 Nov 02, 2009
The December issue of Empire magazine will see ten different covers featuring ten different film "icons" including Dan Radcliffe as Harry Potter. The UK film magazine says this issue will contain a feature that has "Ten years of the boy wizard. Ten years of Daniel Radcliffe – by Olly Richards" Other covers include those of Viggo Mortensen as Aragon from Lord of the Rings, Johnny Depp as Captain Jack Sparrow from the Pirates series, Daniel Craig as James Bond, with the rest of the covers seen here. UPDATE: Thanks to Snitchseeker who mailed about scans they have here, here and here.
The December issue of Empire will be on newsstands soon. Thanks much Radcakesfan!
---
Leaky's Harry Potter Twitter list is the most exhaustive collection of news and official Harry Potter information in the world. Be sure to follow it today!