Tom Felton Accepts Favorite Film Award for HBP at Switch Awards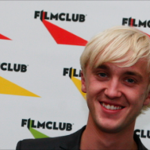 Nov 11, 2009
Harry Potter actor Tom Felton (Draco Malfoy) was on hand at the BBC Switch Awards to collect the Favorite Flick honor for the Harry Potter and the Half-Blood Prince film at the awards ceremony. Thanks to the BBC, video of the young actor after collecting the award is now online, and includes a short Q&A with Mr. Felton. This Q&A shows Mr. Felton discussing the 'bad' side of his character, his feelings about the end of the films, and more. The video interview can be viewed via this link. Update: This interview is now available to watch in our Video Galleries.
The 2009 Switch Awards are set to be broadcast on BBC One on November 15th at 3pm.
---
Leaky's Harry Potter Twitter list is the most exhaustive collection of news and official Harry Potter information in the world. Be sure to follow it today!