Video: Tom Felton Talks Half-Blood Prince, Deathly Hallows on GMTV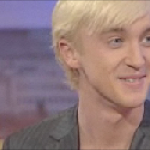 Nov 16, 2009
As noted via his official Twitter, actor Tom Felton (Draco Malfoy) was a guest this morning on UK channel GMTV. At this link, you can now watch the video, (also here in our galleries) where Tom discusses the soon-to-be-released DVD for Harry Potter and the Half-Blood Prince, as well as the upcoming Harry Potter and the Deathly Hallows where he confirms they are half-way done filming on the two movies (both are being made at the same time). Enjoy!
Thanks for the video link, Wendy!
---
Leaky's Harry Potter Twitter list is the most exhaustive collection of news and official Harry Potter information in the world. Be sure to follow it today!