Aerial Shots of City of Hunsbury England Filmed for Deathly Hallows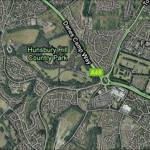 Nov 19, 2009
Thanks to TLC reader Emma, we know that the city of Hunsbury, England will feature in overhead shots for the upcoming Harry Potter and the Deathly Hallows. Emma pointed us to this article which says:
"The Warner Brothers team went up in a helicopter to film aerial footage of the residential area last Thursday.As reported by this newspaper they had posted letters to residents
asking them to leave lights on and curtains open why the filming took
place.It was on Tuesday night that the production company's location department revealed what the filming was for. The news has delighted residents and the non-magical muggle folk who
are now hoping to catch a glimpse of the Northampton skyline when the
film is released.
The Mayor of Northampton, Cllr Michael Hill, who lives in East Hunsbury, received the letter to keep his lights on.He said: "To be honest, I completely forgot! I think it would be nice
if Northampton is given credit for taking part, but it will mean very
little if we are just part of an anonymous backdrop."I think a few people will go along and try and see their houses."