Filming of Interior Ministry of Magic Scenes for Deathly Hallows Due Next Month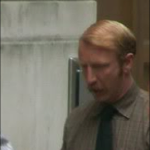 Nov 22, 2009
As readers will recall in Harry Potter and the Deathly Hallows, there is a sequence where the Trio make a trip to the Ministry of Magic and transform into workers. Earlier this year, we saw location filming (photos and report here) for exteriors of this scene in London, which also involved the adult actors playing the Ministry of Magic workers. Today Wales online has a new interview with one of those actors named Steffan Rhodri, who portrays the part of Reg Cattermole. In the article, we learn additional filming for these interior Deathly Hallows scenes will take place at Leavesden Studio next month for five weeks, going between December and February. There is also much more information on the characters and working with the trio. Quotage of interest:
"Reg is from the Magical Maintenance Department and in the new film
his identity is borrowed by Ron Weasley, who is played by young actor
Rupert Grint."I basically have to be Ron pretending to be Reg' said the father-of-two."It means I have to kind of impersonate Ron which is quite a challenge."
Steffan will film most of his scenes with Sophie Thompson, who plays Mafalda Hopkirk, and David O'Hara, who is Albert Runcorn.Mafalda's
identity is taken over by Hermione, played by Emma Watson, while Albert
is taken over by Harry, played by Daniel Radcliffe.
Steffan and
his new co-stars have already met the young actors so that they could
watch their mannerisms which they had to adopt for their own roles."They would do a scene and then we would do it after them." Steffan was impressed with the young Harry Potter stars who were
catapulted to fame when they were all still at school after filming the
first Harry Potter movie."I was pleasantly surprised by how lovely and normal they are' he said."