Firm Opening Date for Wizarding World Due Soon?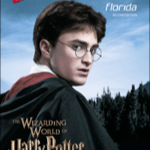 Nov 09, 2009
UK travel giant Virgin is set to feature the Wizarding World of Harry Potter at Universal Orlando on their new brochure for Florida. According to this article, this new collaboration with Universal also "sees Virgin, and sister brand Travel City Direct, offering a range of exclusive benefits to customers visiting the attraction when it opens at Universal's Islands of Adventure next spring.Simon Presswell, Universal Parks and Resorts' European managing director, said the tie-up marked a major step in the gradual "reveal" of the Wizarding World of Harry Potter, which has been designed in collaboration with Potter fans worldwide."
Update: The article has now been amended, removing the portion regarding an earlier mention for a firmer opening date coming possibly at the end of the month, to now read as follows: "Presswell said the exact opening date for the Wizarding World of Harry Potter was still being kept under wraps, but confirmed it would be open in time for the peak summer travel season."
We have long known a Spring 2010 opening has been planned for the park, however no firm date has yet been revealed; stay tuned more when we get it! Finally, as noted first here a few days ago, the Hogwarts Express has arrived at the theme park currently under construction in Florida. Thanks to BrianOrndorf.com for letting us know he now has some additional photos of the train being put into place which you can see right here.