Snape Speaks: Video Interview with Alan Rickman on the Potions Master and Deathly Hallows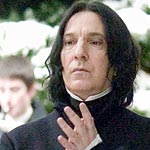 Dec 11, 2009
Well this is quite a holiday treat: Rare video interviews are now
online with actor Alan Rickman on his role as Professor Severus Snape
in the Harry Potter film series. Mr. Rickman, who has routinely refused
(in most cases, not all, but most) to speak at length
about the pivotal character he portrays in the films, answered several
questions at the Hudson Union Society recently about Snape. Alan confirms he has already filmed some scenes
with Ralph Fiennes (Lord Voldemort) for Harry Potter and the Deathly Hallows, but has yet to
film with Dan Radcliffe (Harry). Thanks to Vimeo user Katie we can now enjoy
the
following:
Video One (or here )Alan Rickman on the Harry Potter series ("Incredibly well crafted").
Video Two: (or at this link)Working with the different directors on the series.
Video Three: (Update also here in our galleries) Speaks about Deathly Hallows and noted has filmed scenes
with Ralph Fiennes and just the crew, and says he will be back on set
shortly to film with 300 children (possibly Snape as Headmaster ?)
Many thanks to Katie and to SS for emailing!