JK Rowling and Tom Felton Appear at British Comedy Awards (Updated)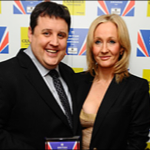 Dec 12, 2009
Thanks to TLC reader Andy who let us know that Harry Potter author J.K. Rowling presented at the British Comedy Awards tonight in London. Update: The first photo of JKR at the event can be seen here at the BBC, thanks Roonwit! The Daily Mail reports that JKR presented an award to her very good friend Peter Kay noting: "He's one of Britain's best loved comics and the
creator of by far the funnier of the two famous Potters and of a kebab
stand, my personal favourite, called Harry Pitta.'Even though,
Warner Brothers aren't going for the idea of a death eater from Bolton
so he's going back on tour and it gets him off my back.'Also, as announced earlier, actor Tom Felton (Draco) also presented an award, with photos of Tom at the event now available here in our Image galleries.
Thanks Andy!