Recap from Live Half-Blood Prince Screening with Dan Radcliffe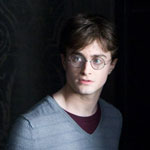 Dec 13, 2009
UPDATE: Thanks to Lauren from our Order partner, Danradcliffe.com you can download the audio right here. Enjoy!
As posted below actor Dan Radcliffe took part in the BD Live community screening via of Harry Potter and the Half-Blood Prince. Joining him was producer David Barron, filling in for an ailing David Yates who is suffering from the flu and together, they provided fans from around the world with an assortment of news, reflections, thoughts and answers about the Harry Potter series. Of special interest were the comments on the upcoming Harry Potter and the Deathly Hallows, as we heard directly from David and Dan that the split of the two films is NOT YET set, and they also want to surprise the fans where it will be. Also, the actors (Dan, Rupert, Emma, Tom, Bonnie) would indeed would be portraying themselves for the Epilogue, that actor Michael Gambon has not yet started filming his scenes as Dumbledore for the films, and as noted earlier this week, filming would continue to late Spring/early Summer. Other (many!) details we learned (many as seen on our Twitter during the course of the event) transpired as follows:
Dan said 5 (OotP) is favorite, due in part to presence of Gary Oldman.
DR would love to play Sirius Black if had chance to play another part
Dan is not rushing new projects right now. Is focused on HP 7 at moment, says would love to go back on stage one day
Dan Radcliffe says again would love to have Harry's glasses after the filming is done.
Reflecting on Alan Rickman (as Spinners End scene played) Dan says he is 'rather wonderful' as Snape and has dry sense of humor.
Says Lupin and
Lockhart were his favorite Defense Against Dark Arts teachers, Ken Branagh gave
advice/help on Shakespeare (tutoring on 12th night etc)
A continually gracious Dan Radcliffe often remarked on his fellow cast mates, noting the Phelps were nice and funny and Freddie Stroma as Cormac was "really brilliant, a top guy"
Dan says watching HBP now is the first time hes seen anything on Blu-ray, notes the Dragon chase from Goblet of Fire is his favorite VFX, and offers much praise to the stunt crew he has worked with over the years, trusting in their decisions on whether he could handle a certain stunt or not.
Dan Radcliffe would use the invisibility cloak for "robbing banks" (joke) and "all sorts of fun mischievous stuff"
Dan Radcliffe will NOT be using Twitter.
Digression on topic of Cricket: after England Dan's favorite team is India. Dan also speaks of US NFL, is a NY Giants fan
Discussion of Felix Felicius: Dan would use it in a really big moment.
On Jim Broadbent as Slughorn: Despite a lively on screen portrayal, very quiet shy when camera not on, (very similar to Rupert they note) Both praised his work, remarked on sadness shown in Slughorn
Snape would probably be would be better Potions Master than Slughorn as he wrote the book (ie Half-Blood Prince)
In a running joke during entire live screening, Dan remarked on birds scene in Vanishing Cabinet; said that he had no idea what going on with the birds
Dan: Quidditch Pitch is a fantastic work of imagination and that flying a broom is painful
Humorous description of day of filming for Dan, mentions it starts at 630 breakfast, "gets scar on", "blood if needed"
Dan has studied magic, has been challenged to Harry Potter trivia and lost every single time


As film and Trio drinking Butterbeer, DB and Dan reminds fans we can try this at the Wizarding World of Harry Potter next spring
Dan Radcliffe speaking on impact of stage work (Equus) on his film work-gained a huge amount of confidence, also speaks to possibility of writing one day for film (besides acting),says so much to learn before tackling directing.
After a break, David Barron
remarks on late Robert Knox (Belby) who was tragically murdered before
HBP was released, Dan says he was a great guy
DB confirms Evanna Lynch designed Luna's lion hat, both say she is 'brilliant' as Luna, DB says she is very gifted
As film moves to Slughorn's Christmas party, much laughter over Rupert's various vehicles (including a hovercraft kept at his home)
Dan praises David Bradley as Filch, and notes his acclaim for his theatre work



Dan on Jessie Cave as Lavender:says the heart drawing in the fog on glass in train for Ron one of his favorite parts of film
Ron is their favorite Weasley


"Cramped and crooked" is description of the Burrow set, DB says detail is brilliant

Attack on the Burrow discussion. Dan loves this scene, DB says this was used to encapsulate world outside Hogwarts was in danger
Discussion now on cutting scenes(or adding as in the burrow) have to get to the plot its a hard choice
DH Epilogue, the actors will play themselves 19 years later, would be wrong not to let them complete this journey
Voldemort is favorite dark wizard for both



Reflecting on
passing of Richard Harris (night before massive press junket says Dan), was a larger than life character, person.
Both praise Michael Gambon who does not compete against RH.
On Rupert Grint: they praise how funny he was in lovelorn Ron scene. Dan speaks on trying to make R laugh right before a take because Rupert loves to laugh, Ron's frothing from the poisoning is actually egg whites
Dan says Atrium in Ministry of Magic is his fave set, DB loves the Gryffindor Common Room
Back to bird in
Vanishing cabinet, DB tells Dan to listen to track, you can hear cheep
cheep of bird as in VC in Borgin & Burkes -a very funny moment for both men here.
Dan would be annoyed by Lavender Brown (as opposed to Colin who is 'really sweet')
DB will look into putting together bloopers from the films (yay!)
Sectumsempra
scene now: Dan says he & Tom were getting along so well, Dan &
he were like 'cowboys & indians' and it was cool to film scene.
Description of Room of Requirement and DB says If you look carefully one or two artifacts that have appeared in other films
Dan says has broken 7 wands over the years, Devon Murray (Seamus) 8 or 9 and David Thewlis has about 12
Dan Radcliffe (Harry Potter) would be sorted in HUFFLEPUFF !(nice, but clueless he jokes) but obviously would like Gryffindor (Note: Editor Sue did NOT ask this question but is frankly ecstatic at this news and welcomes Dan proudly into Hufflepuff at any time)
Dan would like to be able to turn into a Wolfe or other animal (magical creature q) David B-Bowtruckle
if Dan could keep a Memory (as in a pensieve) he says it would be 'firsts' in his life like a kiss, but notes he is only 20
DB: Pensieve
scenes were cut down because hard to propel a movie forward by going
backward (w/all the memory scenes in book) so trick is to move forward & still use these scenes
During cave scene Michael Gambon drank some sort of milky mixture and praises stunt woman who played the Inferi
Dan says that Michael has not yet filmed his scenes for DH (oops secret revealed)
DB says Dan actually filmed cave scene w/real fire in tank 20 feet deep
DB said Harry
immobilized on tower did not feel right so they went a different path
with the emotional reaction, prep for HP 7 & faith in DD
DB: Kloves is
"genius" writer and they asked him to take DD funeral out, he did, they then
put it back in & next day took it back out again; felt there were too many endings so funeral was finally cut.Tried hard but decided to just end it there before scene, said actually have phoenix song at end of film but still hard choice
Dan says sense of
humor is needed to handle all that comes with the job, ie people making up
stuff in paper, etc and you just have to laugh at it all
Phew! We hope to have audio for you posted shortly, stay tuned!