Welcome to Hogsmeade: Photo Update on Harry Potter Theme Park Construction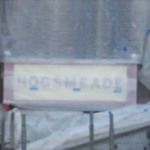 Dec 14, 2009
Construction continues at the Wizarding World of Harry Potter theme park attraction in Orlando, Florida and we have several new batches of photos to show you today, including our first look at the Hogsmeade village sign right here. This comes courtesy of OrlandoParknews, which has some terrific large size photos as well of the entrance to Hogwarts Castle, the brick facade now in place on the shops of Hogsmeade, with more on the way, work on the mysterious side building (possibly Greenhouse or the for entrance line) and this and this of the giant castle of Hogwarts (note the contrast of the castle with the palm trees…ah, magic!

Thanks as well to Brian Orndorf who owled Leaky and all the sites with his latest batch of photos from the construction at Universal Orlando as well. Brian has this photo which he thinks is possibly construction for the Flight of the Hippogryff ride, as well as this close up of the side tower (note the workmen's waterbottles hidden there), another (and clear) shot of the greenhouse like side building of the castle, and work on the Hogwart's Express train. Be sure to check out all the latest photos starting here.
Thanks to OrlandoParknews and Brian!