PotterCast 211: Never Be Afraid to Squee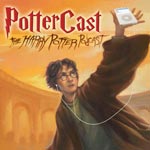 Dec 25, 2009

PotterCast, our Harry Potter podcast,
has its holiday episode online, just in time for Christmas. Our 211th episode starts off with the latest in Potter news, including a preview of the One Day in the Life of Daniel Radcliffe book from photographer Tim Hailand, a teaser of the Harry Potter LEGO game, a report from the Economist on the economy of the Harry Potter series, the many end of the year lists coming online, and a rundown of the recent commentary on HBP Live community screening with Dan Radcliffe (Harry Potter) and producer David Barron. Next, the PotterCast holiday filks are here, giving you the first part of our collection of original holiday themed Harry Potter songs. A Christmas themed Potter Pundits follows, with a discussion on the always eventful Christmas holiday happenings from the Harry Potter novels. Following another round of filks, the finale to Albus Severus' story at Hogwarts wraps up his first year at Hogwarts. The final round of filks leads us into the drums where the PotterCasters discuss their Christmas plans, snow, beer, and a goodbye to Sue.
Also, please send in your favorite PotterCast moments of 2009 to [email protected]
As a reminder, the LeakyCon DVD, which will be available to pre-order
soon, will also include all wizard rock performances from our conference. If you like live wizard rock, be sure to reserve your copy of the upcoming LeakyCon Live Album of the wizard rock live shows at our LeakyCon 2009 conference. To listen, just hit the "Play" button on the right side of the page (–>), or use iTunes, or direct download.
"Never Be Afraid to Squee"
RT: 125:51
Producer: John Noe
Also, special thanks to our ever-vigilant mods for monitoring the live PotterCast recordings.
LeakyCon 2011: A Harry Potter Conference in Orlando!
"Harry, A History" Website
Jingle Spells 3
PotterCast Vlogs
Podcast Alley
Digg
Remember you don't need an iPod to listen. Listen easily on iTunes, which you can download and install here, by clicking here to listen, or you can just use the streaming Flash player at PotterCast.com or just on the right side of this page. Discussion of the PotterCast is right here. Enjoy!
---
Leaky's Harry Potter Twitter list is the most exhaustive collection of news and official Harry Potter information in the world. Be sure to follow it today!