Winners of the October Hallowe'en/Deathday Party Contest Announced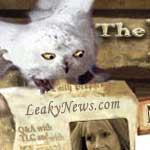 Dec 30, 2009
Last October, our Crafty Witches and Wizards brought you their Hallowe'en/Deathday Party contest, which asked you to show them party favours, party decorations or party foods geared towards Deathday or Hallowe'en parties and related to the Harry Potterverse. The contest ended in November and voting was opened to decide a winner. Run-off votes resulted in two entries tied for first place and two entries also tied for third place. After receiving many brilliant and original entries, the winners are as follows:
First Place (tie): Artisticmom with her Flying Ford Anglia (additional images starting here) and Bat Tatter with her Tatted Haunted House (additional images starting here)
Second Place: MCrownover with her Scare Package (additional images starting here)
Third Place (tie): Three Sided Orchid with Neville's Cauldron (additional images starting here) and Jessica Lane with her Accio Hogwarts Pumpkin
The Crafty Witches have decided to double the MyLeaky points that were to be awarded as prizes. The first place winners of this contest will now receive 100 MyLeaky points, with the second and third place winners gaining 50 and 20 MyLeaky points respectively. Well done to the winners and all who entered!