Reminder: Leakies 2009 Voting Now Open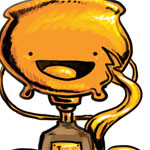 Dec 31, 2009
A quick reminder this morning that there are only a few more hours left to vote for the 2009 Leakies, our first annual award ceremony where we can wrap up the year together by voting on your favorites actors, news, moments, and more from the year. Voting will remain open until 11:59 pm EST tonight. The winners of each category will be announced on New Years Day.
The nominations for the 2009 Leakies span many different aspects of elements of the fandom, including: Favorite News Story of the Year, Favorite Actor, Favorite Actress, Favorite J.K. Rowling news item, Favorite HP Video, Best Dressed, Funniest Moment, and many more.
Click here to vote now!