Dan Radcliffe and Emma Watson Make Forbes List of Hollywood's Most Valuable Young Stars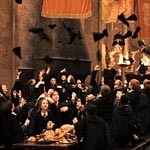 Mar 11, 2009
Forbes Magazine has published a new list detailing Hollywood's Most Valuable Young Stars, which feature actors Dan Radcliffe (Harry Potter) and Emma Watson (Hermione Granger). With a rating of 6.03 out of 10, Mr. Radcliffe comes in first on the Forbes list, which notes that his role in the play Equus, helped "get audiences 'to see him as something else, and that speaks to him as an actor.'" The magazine goes on to say the following:
Daniel Radcliffe was plucked from relative obscurity to take on the
Harry Potter role and has made the most of the opportunity. As Potter wraps up, he's clearly just beginning.
Emma Watson came in at number six on the list with a rating of 4.02 (out of 10). The magazine says this of the actress:
As one-third of the main Harry Potter trio, Emma Watson has carved out her own notices for her work in the franchise. With the final installments nearing, Star Currency voters see a future for her on the big screen–if she's interested, that is. She heads to college in the fall.
The two Harry Potter actors join such other young talent as Dakota Fanning (War of the Worlds), Freddie Highmore (The Spiderwick Chronicles), and Hayden Panettiere (NBC's Heroes) on the Forbes list. The full list can be viewed via this link.
In addition to this, Forbes.com released yet another list of the World's Billionaires. Harry Potter author J. K. Rowling has been included on the list which writes the following:
World's richest author. Harry Potter author named highest-earning celebrity last year by Forbes, for taking home $300 million. Her seven books in the series about a teenage wizard and his school chums has sold 400 million copies worldwide. A box office blockbuster, the five Harry Potter films released so far have grossed more than any other motion picture franchise in history. Sixth film scheduled for release this summer. Sales of Potter-related products, of which she gets a cut, have been reported to be in excess of $15 billion. Says she won't write any more Harry Potter books but released wizard fairytale book Tales of Beedle the Bard, in December 2008; proceeds from that book will go to a children's charity. Her personal story is nearly as magical as the fiction she writes: Single mother living on welfare in a cold-water flat in Edinburgh, Scotland, Rowling completed her first story of the teenage wizard in 1997. A year later Harry Potter and the Sorcerer's Stone was published in the U.S. and became a children's literary sensation.
Thanks to radcakesfan for mailing.