Ron and Hermione Make BBC Radio One Top Movie Couples List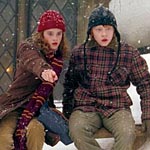 Mar 19, 2009
Update: Thanks to the many readers who let us know that an actual list of Top Five Movie Couples released on BBC Radio One by host James King making mention of Ron (Rupert Grint) and Hermione (Emma Watson) should read as follows:
5. Jennifer Lopez and George Clooney in "Out of Sight"
4. Emma Watson and Rupert Grint in "Harry Potter"
3. Julia Roberts and Richard Gere in "Pretty Woman"
2. Carrie Fisher and Harrison Ford in "Star Wars"
1. Angelina Jolie and Brad Pitt in "Mr and Mrs Smith"
An earlier list was apparently "a joke list" as seen below.

5. Lady and the Tramp
4. Harry and Lloyd (Dumb & Dumber)
3. Brad Pitt and Angelina Jolie
2. Ron Weasley and Hermione Granger
1. Xena Warrior Princess and Gabrielle
Thanks to Mhaey, Ivana at ICM, the BBC, and scores of others for mailing!