Another Confirmation on the Aging Process and Cast for Epilogue of Harry Potter and the Deathly Hallows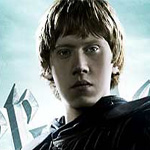 Apr 16, 2009
Several times in the past, we've reported on various cast members, such as Rupert Grint (Ron), discussing the epilogue for the upcoming Harry Potter and the Deathly Hallows and the possible aging process to be used on the original cast members. Today, MTV has a new article where film producer David Heyman also weighs in on the epilogue, noting:
"We will shoot it' producer David Heyman confirmed for MTV News.
Rowling wrote a flash-forward ending to "The Deathly Hallows" that
shows where the characters end up as they grow older. Heyman also
indicated that the original Hogwarts actors would be filling those
roles for the sequence, rather than being replaced by older lookalikes.

"Yes' he acknowledged, nodding that aging done to the characters would use the existing cast.
Harry Potter and the Deathly Hallows is currently in production in London, England, with Part One due in theaters November of 2010, and Part Two, July of 2011.