LeakyCon Highlight: Frak's Art Factory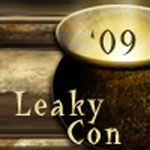 Apr 24, 2009
Only 27 days until LeakyCon 2009 (registration is here), and today we have the first of many highlights!
Today's feature is Frak's Fun Sized Art Factory! At this special one-of-a-kind workshop, Leaky's main illustrator, professional art teacher and PotterCast co-host Frak will offer easy-to-follow steps and guide you through the process of bringing your vision of the characters to the page! Attendees make several sketches and bring home their tutorials as well as their brand new character art.
This workshop is free and comes with the price of registration for the conference. There will be two sessions: one for anyone who wishes to attend and one aimed at registrants aged 14-17.
Reminders and links!
J.K. Rowling and Scholastic have donated a full 10-book set of signed American Edition Harry Potter books for fundriaising at LeakyCon. This world exclusive set is only available to registrants of LeakyCon. More info here. You can register for LeakyCon here.
Remember, the main LeakyCon registration includes:
Welcome Feast
Leaving Feast
The Rocking Charity Ball
THREE enormous wizard rock shows with more than 15 bands performing
All in-conference programming
Vendor Room
Podcasts, including live PotterCast, Spellcast, Spinnerscast and more
Film screenings
And a lot more – an unbelievable value that is unparalleled anywhere. LeakyCon is a charity conference, with all proceeds benefiting Book Aid International and the HP Alliance.
Tickets to our keynotes are going fast! Here's all the info you need:
In addition to registration, which is flying, tickets to our two announced keynotes are going FAST, so make sure to amend your registration to include:
Q&A with Michael Goldenberg: A special first – a discussion with the scribe behind the screenplay for Harry Potter and the Order of the Phoenix. Join us as we discuss the process of adapting the most popular book series of all time to film, followed by a Q-and-A session. We are also doing a special competition on Twitter: If you tweet the phrase "Michael Goldenberg, screenwriter of HP5, will be keynoting @leakycon2009, visit http://www.leakynews.com for details!" you will be entered to win a ticket (you should NOT wait to find out if you won to buy a ticket: if you win and already have a ticket we will reimburse you!). ($60 ticket includes high-quality catered lunch; register at this link.)
Nosh with the Nerdfighters: John and Hank Green of Vlogbrothers fame have built a community around the idea that smart is the new cool, and that brains will always (if eventually) win over brawn. Naturally, the Harry Potter community was the first to catch on to their awesome ideas and has been a huge part of their growth. Come for what's sure to be a hilarious and enlightening time. ($30 ticket includes cookies and snacks as well as programming; register here).
You can see our full slate of programming at this link.
Remember you can register for the conference here; you can get a room at our special rate (running out!) at this link.
Remember:
We have one more keynote to announce and lots more to highlight before LeakyCon: See you in Boston!