Relic Me This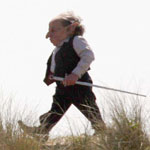 May 12, 2009
Day Two of Harry Potter and the Deathly Hallows location filming is underway currently in Wales, and we will be bringing you reports as soon as we can. Yesterday TLC brought you the first report and photos from Shell Cottage filming, and among the things noted was the large presence of paparazzi, which is making things difficult for fans to see all the action, and security is now strong in the area. However, if there is a silver lining to be had, the press does have those large cameras capable of getting large close up photos. In case you missed it yesterday, along with ones of the cast, two photos of note were obtained showing some interesting relics or items from Harry Potter and the Deathly Hallows:
Griphook and the Sword of Gryffindor
Harry and the Mirror shard (from Sirius)
TLC has crews on the scene for Day Two, and we will be bringing you more reports today, stay tuned! Be sure to check out our extensive collection of Day One photos from location filming at Shell Cottage built on Freshwater Beach, Pembrokeshire, Wales, here in our image galleries.