From the Leaky Lounge: Reading Groups for OotP Start Today, Icon Contest Underway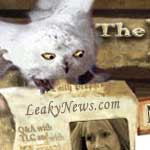 Jun 20, 2009
The Leaky Lounge is our forum where you can join in and talk to Harry Potter fans all around the world. A site of continual activities relating to Harry Potter, we have a few updates today.
First, the Lily & Stag Inn Reading Groups, will begin sorting today at 9am Eastern as they prepare to read Harry Potter and the Order of the Phoenix. These groups are small private groups where you can gather together, read then discuss in great detail the books in an intimate setting. The goal this time with OotP is to delve into motivations of individual characters, the importance of plot lines,
and the "clues" that turned out to be red herrings. Groups will learn more
about The Order and the first war, the relationships that helped define
the Wizarding world, and develop further understanding about death in the Harry Potter
series by J.K. Rowling. If you've participated in the reading groups before, you will know what a wonderful, relaxing and positive experience these groups can be, and you will need to be resorted for this latest round. To sort, you will need to click here. Also today at 4pm eastern, please join Daniel and Laura as they will be holding a new Ustream chat on the book, the groups and much more; hope to see you there!
Creativity is the name of the game for fans of our galleries, and all the new material released with the relaunch of the official Harry Potter and the Half-Blood Prince website. Strictly using the material found here, our galleries crew challenges fans to create and submit two new icons for this contest which is open now until June 28th. Winners will receive MyLeaky House points; for more information on the contest please click here. Good luck!