December Contest: Wizarding Holiday Story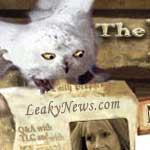 Dec 02, 2012
This month our contest is challenging you to share your favorite Wizarding Holiday story. To enter the contest write a 750 word (or less) story that answers this question: what holiday stories and beloved characters do wizard children grow up loving and asking to hear over and over again?
Because of the holiday season the deadline is a bit tighter this month and all entries must be received by no later than midnight on December 21st.
The first place winner will receive a handcrafted wand (design changes each month) donated by Wizard Wood Wands, as well as 200 MyLeaky points. Second, third, and honorable mention(s) will receive 150, 100, and 50 MyLeaky points respectively.
For more information on this contest, as well as a further explanation of the rules, please go here.