Another Report Noting Harry Potter and Half-Blood Prince DVD Due During Holiday Season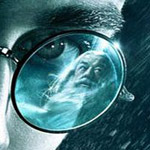 Jun 22, 2009
While the movie is set to be released in just a few weeks, there is more talk today regarding the release of the DVD for Harry Potter and the Half-Blood Prince. Last week, we at TLC reported on a possible holiday release for the disc in December; the LA Times has a new article online that notes " the DVD will be released during the heavy gift-buying holiday season." At the link you can also see a new photo of Director David Yates with actor Jim Broadbent (Prof. Slughorn).
The bulk of the LA Times piece does focus on the slump in sales of DVD overall, as well as the declining sales of Harry Potter DVD. The Times also makes mention of the huge budget being used to promote the film. Quotage:
Though the "Potter" movies have historically been huge DVD sellers,
each successive sequel has sold far fewer units than its predecessor.
Sales of the last release were off 15% in the first eight weeks
compared with sales of the first film during the same time span. Even a
small decline in DVD sales is a challenge for expensive movies because
it raises the bar to profitability that much higher.

And the bar
for Harry Potter is higher than ever. Warner Bros. spent $250 million
to produce "Half-Blood Prince" and will invest $155 million to market
and distribute the movie, according to people familiar with the
situation.
Speaking with WB President Alan Horn, the paper reads: "
Because DVD and ancillary sales are driven by how well a film performs
at the box office, Warner Bros. is focused on making sure that theaters
will be filled with moviegoers. As the "Potter" franchise ages,
Horn says the biggest marketing challenge is assuring moviegoers that
they'll be seeing something new. "When you're doing the sixth version of a movie, how do you have fans not get tired of that?" the Warner Bros. president said.

"To keep it fresh, we used all these wonderful moments in the movie —
the trials and tribulations of growing up, these new environments and
the urgency of Harry trying to discover more information about who he
is and what led to his parents' death," said Sue Kroll, Warner Bros.
president of worldwide marketing. To let audiences know that
"Half-Blood Prince" is distinct, Kroll said, the marketing campaign was
designed to feel "more contemporary, a little bit more in your face."