UK TV Watch: Emma Watson on Jonathon Ross, Channel 4 Harry Potter Special, Phelps on Kingdom, and More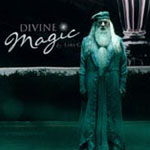 Jul 02, 2009
This weekend things will be in high gear as the television coverage promoting Harry Potter and the Half-Blood Prince begins in earnest, especially for viewers in the UK. Here is a list of what we have to date.
Friday, July 3rd: First as a reminder of what we posted previously, actress Emma Watson (Hermione) will be a guest tomorrow night, July 3rd, on the popular Friday Night with Jonathan Ross that airs on the BBC at 10:35pm.
Saturday, July 4: Reminder Classic FM will be broadcasting on the radio the soundtrack for Harry Potter and the Half-Blood Prince composed by Nicholas Hooper.
Sunday, July 5: James and Oliver Phelps (Fred and George) will be guests on the ITV program "Kingdom" which airs at 9pm on UK station ITV. You can see a new photo of the actors and plot summary here.
Tuesday, July 7: The UK premiere of Half-Blood Prince will take place in Leicester Square, London, England with fans world wide able to view the program live via this link starting at 1pm (Eastern, 6pm GMT)
Saturday, July 11: Channel 4 will be airing a special program taped at the premiere; this show will air on the UK channel 11:35am – 12:10pm.
*ITV SPECIAL "Behind the Magic" will air 7-8pm; details on this special include look at Harry/Ginny Kiss. For more see post below.
Sunday, July 12: Channel 4 has a second special program, this 12-12:30pm The description reads:
Alex Zane and Rick Edwards are your ticket to the movie world's biggest night of the summer season: the star-studded world premiere of Harry Potter and the Half Blood Prince . The entire cast, together with celebrity friends and fans descend on London for what promises to be an unforgettable, magical night. All this, plus exclusive on-set access and amazing interviews with all the main cast including Daniel Radcliffe, Rupert Grint and Emma Watson.
Please note: There are due to be many more morning show appearances, radio talk show interviews and more. If you learn of any we can add to this list, please email us at [email protected] and we will update as we can. Thanks to all who have contributed to this list!