CastWatch: Sean Biggerstaff on TV, Alice in Wonderland Trailer, More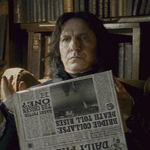 Jul 24, 2009
Many readers have owled regarding cast members and their projects outside the Harry Potter films; as such here is a quick update.
First, Sean Biggerstaff will be seen here in the US this weekend on PBS in Miss Marple: 'Why didn't they ask Evans?'. Check your local listings for time and channel. Sean memorably portrayed Gryffindor Quidditch captain Oliver Wood in the first two Harry Potter films. Rumors abound he might be asked to return (along the scores of others already reported by TLC for DH) and while possible, this is pure speculation for the moment.
Director Tim Burton has released the trailer to his newest film "Alice Wonderland" starring his wife Helena Bonham Carter (Bellatrix), Alan Rickman (Snape), Timothy Spall (Wormtail) and the delightful Stephen Fry (UK HP audio book narrator). You can see the trailer at the official website here.
Robert Pattinson (Cedric Diggory) continues to generate news, with much ado over a recent appearance at Comic Con (photos here) to promote the second Twilight film, New Moon.