Half-Blood Prince DVD Update: VOD Delayed Until December 15th; Several International Releases in November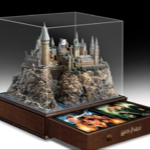 Sep 29, 2009
Several pieces of news relating to the anticipated release of Harry Potter and the Half-Blood Prince on DVD. First, Video Business is reporting tonight that while the DVD will be available on December 8th as announced previously, WB is delaying the release of the Video on Demand. The magazine reports that WB will delay the VOD until December 15th, citing a Warner Home Video rep who said HBP " 'will be held back a week [on VOD] in an
effort to further enhance the extraordinary sell-through possibility' of the DVD, calling Potter a unique property.
He stressed the delay wasn't being done out of fear of hurting potential Potter disc sales, but rather in an attempt to drive even bigger sales."
On a related note, as reported earlier, Germany will have the DVD released far earlier than we here in the US, as they will join France in seeing the Half-Blood Prince release in November, with France to see it November 18th, Australia on November 18th, and then Germany on November 20. Amazon Germany is now offering fans a lovely pin set with the purchase of the DVD (seen here in our galleries), and has a special book that will house the Years 1-6 set. Like those in France, fans in Germany will also have the chance to purchase that special Hogwarts Castle case with the set of Harry Potter DVDs, seen here. No word yet if the Hogwarts set will be available in the US. UPDATE: Alejandro from Bloghogwarts kindly emailed to let us know that the DVD will be released in Spain on November 24th, and Mexico will see the Half-Blood Prince released on December 5th.
Finally, pre-orders for those in Australia are also available for the Ultimate Collectors Editions, which will also be released in that country on November 18th. As reported previously the UK will see HBP on Dec 7th, with the US to see the HBP and Collectors Editions on Dec 8th.
More when we get it!