Empire Magazine to Feature "Deathly Hallows" Preview in February Issue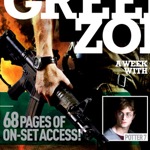 Jan 03, 2010
The recently released cover of the February 2010 issue of Empire Magazine indicates that their upcoming 'On-Set Access' feature will include a preview of the "Harry Potter and the Deathly Hallows" film. The cover, available to view on the Empire website, includes the seventh Potter film along with such other high profile 2010 releases as "Toy Story 3," "Alice in Wonderland," and "Tron Legacy." While we have yet to receive word on the contents of this "on-set access" preview, we will update you as soon as this issue arrives on newsstands.
If you spot this issue on newsstands, please do send scans into [email protected]
Thanks to ScarPotter for mailing.