J.K. Rowling to be Turned Into Special Edition Barbie Doll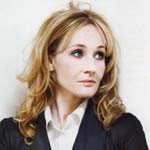 Feb 04, 2010
A Sky News article reveals today that a one-of-a-kind J.K. Rowling Barbie doll will be showcased at the world's largest toy fair in Nuremberg, Germany, dressed in a "black wool suit and hot pink top combination." U.S. chat show host Oprah Winfrey, German prime minister Angela Merkel, 2009 U.S. Open winner Kim Clijsters and Swedish Crown Princess Victoria are among the other women to be turned into special edition Barbie dolls for their "role model" status, although the dolls will not go on general sale.
The senior vice president of Barbie International, Rosa Zeegers, commented on why these particular women were selected:

They are true models for girls of all ages, embodying the essence and values of Barbie.
Whether you are four years old or 70 years old, we all need aspirational role models in our lives.
The outfit chosen for the J.K. Rowling doll is based on her wardrobe choice for the 2009 Monsters and Critics Award Banquet.
Many thanks to MuggleNet for the heads up!