Actors in the News Weekly Roundup (Updated)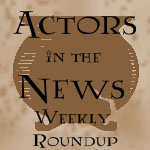 Feb 08, 2010
It's been a quiet week in terms of news from the Harry Potter cast. Helena Bonham Carter (Bellatrix Lestrange) spoke to The Guardian newspaper's Weekend supplement about her most recent projects, including her role in Tim Burton's highly anticipated adaptation of "Alice in Wonderland." In the interview, Bonham Carter speaks briefly about the Harry Potter films:


We talk about the four Harry Potter films she's been in and I tell her I find them hard to ­follow, too. She
nods. "To be honest, I think it's a hell of a lot of plot to fit into
two hours."
Scans of the interview as well as a number of stills from the film and pictures from The Guardian's photoshoot can be found here in our galleries. Tim Burton's "Alice in Wonderland" will be released on the 5th of March. Many thanks to Freya for emailing in!
Secondly, Emma Thompson (Professor Trelawney) appeared in the Daily Mail this week in their "My Life in Pictures" feature. The article, which can be found via this link, includes a photograph of the Cambridge Footlights Society where she is joined by Robbie Coltrane (Rubeus Hagrid) and Stephen Fry, who narrates the British Harry Potter audiobooks. There are also a number of photos with Kenneth Branagh (Gilderoy Lockhart), as well as a still from Thompson's recent role in Oscar-nominated 2009 film "An Education."
Finally, there are a number of new photos from the fashion range Emma Watson (Hermione Granger) has created with People Tree; you can find these in our galleries via this link.
Update: James Phelps was on BBC Radio 5's 606 programme talking about his support of Birmingham City football team as well as the break he has been given from filming in order to attend the opening of the Wizarding World of Harry Potter. The interview can be found here on the BBC iPlayer and starts at around 49:10 minutes in. Thanks to SnitchSeeker for the heads up!