Radcliffe Discusses New Broadway Role, More, in New Interview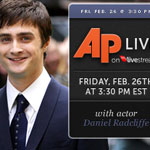 Feb 25, 2010
APLive, the Associated Press's channel on Livestream.com, is presenting an exclusive interview with Harry Potter actor Daniel Radcliffe, to discuss his return to New York and Broadway for the revival of How to Succeed in Business Without Really Trying.
Daniel was rumored to head the show, about a window washer who becomes a big success in New York, via a Variety article in October, then again when he performed a presentation of the show in December.
The Associated Press's previously recorded interview, which will be broadcast tomorrow (Fri., Feb. 26) at 3:30 p.m. Eastern, expects to cover the new show, his previous roles from Harry to Equus, and more.
To watch this broadcast event, you can visit the AP's Livestream page, their Facebook page, return to this page and view it via the embedded video player below, or return to the Leaky at 3:30 tomorrow when it will be playing on the main page. You'll be able to interact with other viewers as the broadcast runs.
style=" padding-top: 10px; text-align: center; width: 560px;">Watch live streaming video from aplive at livestream.com