APLive Interview with Dan Radcliffe Online; Discussion of Trevor Project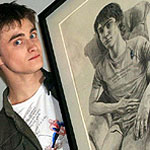 Feb 26, 2010
The interview AP Live conducted with actor Dan Radcliffe (Harry Potter) is now online, and features the young actor speaking to his involvement in the Trevor Project, a nationwide suicide prevention telephone helpline for gay, lesbian, bisexual, transgender, and questioning (GLBTQ) youth. Available to watch right here, or at the bottom of this post, Mr. Radcliffe goes into detail about his feelings regarding homophobia and the effect hateful remarks against GLBTQ youth. He also speaks to his own experiences and the Public Service Announcement Mr. Radcliffe filmed for the Trevor Project.
As Leaky has reported previously, the Trevor Project, which began in 1998, aims to work towards suicide prevention efforts among lesbian, gay, bisexual, transgender, and questioning youth in the United States. The organization comprises many ventures including "Dear Trevor, an online question-and-answer forum for young people with questions surrounding sexual orientation and gender identity; The Trevor Survival Kit, an educational kit distributed to schools and youth service providers to help educators facilitate discussions about suicide, gender identity and sexual orientation; and TrevorSpace, an online social networking community for LGBTQ youth, their friends and allies."
The 24/7 Trevor Helpline can be contacted in the United States by calling 866-4-U-TREVOR (866-488-7386).
style="padding-top:10px;text-align:center;width:480px">aplive on livestream.com. Broadcast Live Free