Emma Thompson to Return as Trelawney in "Deathly Hallows" Film?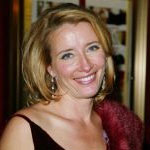 Mar 22, 2010
An interesting bit of information has been published in the the April issue of Tatler magazine, regarding the possible return of actress Emma Thompson as the character of Professor Trelawney in the final "Harry Potter and the Deathly Hallows" film. An interview with Celemence Posey, who portrays the character of Fluer in the Harry Potter films, contains a brief mention of Ms. Thompson when Miss Posey relates her feelings on recognizing people she admires. The magazine, scans from which can be found here care of Clemence-Posey.org, says:

"But in Paris, she adds, 'the French are too snob' to admit to recognising anyone. 'And I'm proud of that!' So proud that when Emma Thompson — a heroine of hers — was in make-up for Harry Potter the other day and she felt a goosepimply 'Aaaah!', she 'didn't say anything. Because I'm French! I won't admit it!'"
As readers will recall, Emma Thompson has stated she will not be retuning for the "Deathly Hallows" films. Official confirmation has yet to come from WB regarding this casting rumor.
Many thanks to Freya for mailing!