Putting Leaky Back into the Cauldron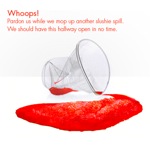 Apr 02, 2010
As it's now April 2nd, we should probably come clean: As awesome as Glee is, we could never abandon that bespectacled boy wizard named Harry Potter and are still very much hosting LeakyCon 2011 in Orlando, Florida from July 13-17. April Fools' Day is Leaky's traditional outlet for a day of well-mannered frivolity and, this year, Glee offered us the perfect soundtrack for the occasion.
April Fools' Day may be over, but Glee fans need not be disappointed: the site is here to stay. The spoof has become the real Glee fan site, GleeCast.net. Glee returns to the air April 13th, and the site will be frequently updated with features as that day approaches.
All of Leaky's events are the collaborative effort of a massive team of the most talented and dedicated people on the web. April Fools' 2010 is no exception. Please join me in thanking:
John Noe and Nick Poulden, for creating and programming our GleekyNews.com page; Alex Robbin, for his technical contributions in creating GleekyCon.com; our Leaky Lounge Tech Admin Rudi Gerber, for turning our traditional Harry Potter Common Room into a Glee Classroom; and Mods Sandara, Abbey, and all those who took vigilant watch over the GleekyLounge today.
Creating a new genre of music would not have been possible without help from the Ministry of Magic's Luke Conard and the Parselmouths' Kristina Horner, who, together, form ALLCAPS; Matt Maggiacomo from the Whomping Willows; and Alex Carpenter from the Remus Lupins. Many, many thanks to you all!
Thanks also to Mr. Eastham's twelfth period band class at Buckeye Valley High School and Gleeky Girls Emily Edwards, Hannah Brooks, Rachel Spain and Christine Kimble.
Last but certainly not least today would not have been possible had it not been for two people: Jordan Edwards and Devan Kestel. This awesome duo first conceived the idea of GleekyCon and helped design, edit, reedit, resize, upload, write, code, compose, film, debug, render, photoshop, and bring this event to life in innumerable and extraordinary ways.
Jordan works as the Lead Graphic Designer for LeakyCon 2011's Media and Communications Team, while Devan is its Lead Technical Guru. Their work ethic is second to none and– let me tell you– if you liked what you saw today, just you wait till you see what they have in store for you for LeakyCon 2011. It is a true honor to call these two people my colleagues here at Leaky.
Time now for a steaming hot Triple Plenta Non-Fat Capp from Starbucks, for the real LeakyCon 2011 updates are on their way; stay close Leaky and LeakyCon.com for the latest!