Make some magic
Apr 11, 2010
Warning – this has nothing to do with Harry Potter. Well, actually it does.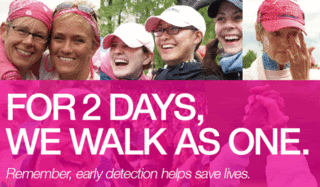 This weekend I walked 39 miles. I am crazy, I knew that long before this weekend!
See, here is the deal. If I were a wizard, I'd find a magical cure for breast cancer. I'd make sure all my loved ones (that means you) were protected and best of all, I'd make sure every person in the world was safe from this disease.
I'm not a wizard. Unfortunately, the muggle in me can not find a spell to fix this, so instead I walk.
This weekend was the Houston – Avon Breast Cancer Walk. Over a thousand people walked 39 miles in 2 days to raise over 2 million dollars to make the magic happen. I've been a part of this walk for three years now. First, in honor of my mom, now in her memory.
See, I'm not a wizard, I can't make magic happen. Instead, I choose to be active to do something. That's what I am asking you to do. Find something and make the world a better place.
(If you'd like to support my 2011 walk please feel free to donate. )
Thanks to the Harry Potter fans who cheered me on. ( I totally adore my pink broom) I had a crew of 20 students whose moms have had breast cancer, it was great to see so many Leaky members there as well.
Make some magic happen for the muggles in this world.
Doris