Rupert Grint Talks "Deathly Hallows," "Cherrybomb," and Future Projects with the Independent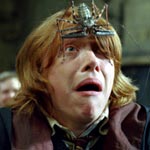 Apr 15, 2010
A lengthy interview with actor Rupert Grint (Ron Weasley) has been published by the Independent, featuring the young actor speaking to many subjects relating to the end of the Harry Potter films, his upcoming film, "Cherrybomb," and what the future holds. Relating that the final weeks of filming for "Harry Potter and the Deathly Hallows" are eliciting "weird feeling[s]," he goes on to admit, "I never really thought it would end. I never really saw this day coming." He continues, "I've loved every minute of Harry Potter. Yes, it'll be quite sad to see it go. But I'm also looking forward to being a bit more free and seeing what else comes along."
The conversation moves to his forthcoming film, "Cherrybomb," which is slated for release on April 23. On the departure from his role in the Harry Potter films, Mr. Grint explains:

"It was quite scary. It felt like a massive step. Filming in a different country, with a different accent, a crew I didn't know… it was a little bit daunting… It wasn't a conscious thing to do something completely controversial and shock people."
The article goes on to relate what film projects the future may hold for Mr. Grint. Quoteage:

Yet it's clear he's not going to spend much time pining for Potter. Already making further provisions for removing the spell its cast over his life, due later in the year is Wild Target, a remake of the 1993 French film Cible Emouvante about an ageing assassin (Bill Nighy) suffering a midlife crisis. He plays Nighy's apprentice. "The character is closer to me than the one I play in Cherrybomb," he says. "I can probably relate more. He's quite laid back." So it's true then? "I suppose, yeah. I am quite relaxed. Not much fazes me. I don't get angry a lot."
Still, if Grint is looking for a role to eclipse Ron Weasley, he may already have found it. He's currently attached to a project to play Eddie "The Eagle" Edwards, the British ski-jumping record holder who became a hero of sorts for finishing last in the 1988 Winter Olympics. "Nothing's final yet but I'm quite up for it. It's always been quite a big story in my family. My dad's always told me about the legend of Eddie the Eagle. He was a bit of a joke really. But he did actually jump, and set the British record." For the record, he's never skied in his life. "That might be a good thing!" he winks.
Many thanks to our Order Partner, RupertGrint.net.