More On Wizarding World from Latest Issue of AAA Magazine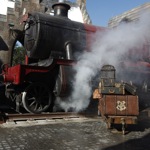 Apr 19, 2010
The May 2010 issue of New York State's AAA Magazine has a short feature on the forthcoming Wizarding World of Harry Potter attraction which gives a few more details about what to expect at the theme park. The article, which can now be read via images now online in our Galleries, notes that the experience will feature floating brooms as well as a lurking Moaning Myrtle throughout the experience. Other details in the article include information about the four minute long interactive Forbidden Journey ride, the many objects available for purchase at the park, and the many details designers took from the films to create a fully immersive experience.
On a related note, some new images from the theme park have appeared online via a WWofHP fan site and give us some new looks at the signs and structures of the park. The full collection of images can be found starting here in our Image Galleries.
The Wizarding World of Harry Potter will have its grand opening on June 18.