Excerpt from Size Matters Not, Warwick Davis Autobiography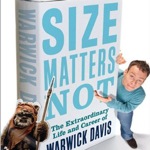 Apr 23, 2010
As readers will recall, actor Warwick Davis (Professor Flitwick & Griphook) has published his autobiography, Size Matters Not, which is on sale in the UK now. Today, TLC has the first of a few special treats from the actor, who has furnished us with a selection from his autobiography. Chronicling Mr. Davis' life and thirty year career, Size Matters Not, covers his many experiences working in film, including his time on the Harry Potter films. The following excerpt details an experience working with fellow Harry Potter actors Alan Rickman (Snape), Maggie Smith (McGonagall) and Michael Gambon (Dumbledore):

From Chapter Eighteen: Pottering About
There was one memorable occasion when I got to have a long chat with the older and more established actors. It was during a long night shoot when we had to wait a long time between shots while the special-effects people arranged all their gizmos for a particularly explosive sequence.
We were outside, and I was flattered to see that my chair had been put in a group with Alan Rickman, Maggie Smith (Minerva McGonagall) and Michael Gambon (Albus Dumbledore).
The four of us sat, in full costume, huddled around a tiny heater chatting through the night. Michael was a masterful storyteller and told some incredible tales with fantastic punch lines ' most of which I can't remember ' and I've been sworn to secrecy for those that I do.
It was sometimes hard for me to follow the conversation because they'd use first names. For example, Michael might ask, ˜Have you worked with Robert?' and then you'd realise five minutes later that he was talking about de Niro.
But there was one subject about which we both were experts.
˜What do you think of these beards, Warwick?' Michael asked.
˜Well, they're a bit of a pain, to be perfectly honest.'
˜Yes, they most certainly are, these wisps get absolutely everywhere. If I use my arms and wand it always gets entangled and I yank the thing right off my face. And don't get me started on food. Dinner is a total nightmare.'
I nodded in wholehearted agreement.
A couple of days later, we were having lunch in full costume when Michael sat down at the table with a large canvas bag. He tied it around his neck and placed his beard inside and then was able to eat his tagliatelle without having to worry about consuming half of his beard at the same time.
How did the lucky sod get one of those? I wondered, as I battled with forks, pasta and hair.
Michael also loved a joke. After lunch one day, Michael's make-up artist was removing his beard-bag before a shot. As she pulled it away she was amazed to see that Michael had woven a string of prawns, vegetables and other foody assortments into the beard.
˜What is it? What's wrong?' the famous actor said innocently.
˜Um . . . um,' the flustered make-up artist replied, ˜your beard, er . . .'
˜Oh these! Well, that's just in case I get a bit peckish, dear girl.'
©Warwick Davis ' Aurum Press
Additionally, friends of Warwick and fans of Harry Potter can get Size Matters Not for the very special price of £10 (RRP £16.99) at waterstones.com. Just enter promo code WD9371 at checkout.
Finally, Mr. Davis is also offering his twitter followers the chance to win a money-can't-buy Harry Potter prize; a framed set of seven extremely rare signed Harry Potter movie signature cards, each featuring a character he played in the Harry Potter movies. To enter, follow Warwick on Twitter, and retweet his tweet about the Waterstones.com offer. This offering is only available to residents of the UK.
Stay close to TLC for even more coverage of Size Matters Not in the coming days.