Actors in the News Weekly Roundup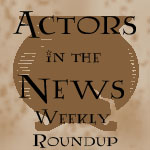 Apr 25, 2010
It was the younger actors who dominated the headlines this week, beginning with Emma Watson (Hermione Granger). Thanks to our Order Partner EmmaWatson.net, we can let you know that the summer collection for Emma Watson's fair trade fashion range has been featured in TeenVogue. A number of pieces from the Hermione Granger actress' "Love from Emma" summer collection can be seen in a slideshow here on the TeenVogue website. More items in the summer line can be seen and purchased on the People Tree website. In related news, Watson topped TeenVogue's March 2010 list of the month's Ten Best Dressed Celebrities. The actress was ranked first for the Christopher Kane dress she wore to the 26th March LONDON show ROOMS cocktail party. You can find the full list of TeenVogue's best dressed here on their website.
The BBC have issued a press release announcing Warwick Davis' (Professor Flitwick) new starring role in a BBC Two comedy penned by Stephen Merchant and Ricky Gervais. "Life's Too Short" is a "30-minute single camera comedy pilot, written by the creators of The Office and Extras." The press release has a brief outline of the comedy's content, as follows:

Life's Too Short is an observation comedy which follows Warwick's day-to-day life in a small world where big things happen. It's a frustrating world, but an optimistic and warm one. This is a comedy where truth and big laughs sit side by side.
The pilot will be produced by Charlie Hanson with Michelle Farr and will be executive produced by Ricky Gervais and Stephen Merchant, with Mark Freeland. You can find the press release, in which Gervais describes Davis as "one of the funniest men I know," on the BBC Press Office website.
Rupert Grint (Ron Weasley) continues to promote the recently released "Cherrybomb" and upcoming release "Wild Target." Firstly, you can see the new trailer for "Wild Target" on the Entertainment Films Distributors website. The film will be released on the 18th of June and also stars Bill Nighy (Rufus Scrimgeour) and Emily Blunt ("The Young Victoria","The Devil Wears Prada"). Parents: please note that the trailer requires a slight caution for some content that might not be suitable for younger viewers.
Additionally, thanks to Order Partner RupertGrint.net, we can tell you that in a week's time there will be a number of screenings in Luxembourg for "Wild Target." Utopolis will be screening the film as part of its British & Irish Film Season: Screenings From The Islands on the 2nd of May at 19:00 and the 6th of May at 21:00. The screenings will take place at Cine Utopia, 16, Avenue de la Faïencerie, L-1510 Luxembourg. You can buy a ticket for the screenings online via this link
and can call for information or seat reservations at +352 22 46 11.
RupertGrint.net have also uploaded a video of the Ron Weasley actor in which he directly thanks all of the fans responsible for helping "Cherrybomb" find a distributor. The video can be watched on the RupertGrint.net YouTube channel at this link.
Feltbeats have new photos and videos from the live interview webcast FilmClubUK conducted with Tom Felton (Draco Malfoy) on Wednesday. Felton was quizzed on his knowledge of Draco Malfoy and spoke briefly about the Harry Potter films. You can find the videos on the FilmClubUK YouTube channel.
Lastly, Oliver Phelps (George Weasley) phoned into BBC Radio 5 Live's 606 show this evening to talk about the Aston Villa vs. Birmingham City football match. The discussion is centred on football and the actor talks about his predictions for upcoming football matches. You can listen here on BBC iPlayer; Phelps calls in at approximately 53 minutes in.