PotterCast 220: Oh Snap!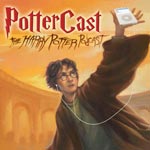 May 02, 2010
style="padding-top: 7px; padding-right: 7px; padding-bottom: 7px; padding-left: 7px; background-color: #ffffff; font: normal normal normal 13px/1.22 arial, helvetica, clean, sans-serif; ">
PotterCast, our Harry Potter podcast, has its 220th episode of Harry Potter news, discussion, and fun online tonight for your listening pleasure. This week, Melissa gives us a rundown on the latest Potter news, which includes information from actress Sophie Thompson on her role as Mafalda Hopkirk in "Deathly Hallows," more on the LEGO Harry Potter video game, Warwick Davis speaking about DH, a video of the Wizarding World's Forbidden Journey ride, and JKR's recent Single Mother Manifesto. Following our Leaky round up, PotterCast gets back to its roots with a round of Quick Fire Cannon Conclundrums where we quickly answer some of your HP related queries. The Trio then checks in with your latest video voicemails, and answers your burning Harry Potter questions. Finally, the show wraps up in the drums and talk of bug bites, Avatar talk, and much more.
As a reminder, the LeakyCon DVD, which will be available to pre-order soon, will also include all wizard rock performances from our conference. If you like live wizard rock, be sure to reserve your copy of the upcoming LeakyCon Live Album of the wizard rock live shows at our LeakyCon 2009 conference.
To listen, just hit the "Play" button on the right side of the page (->), or use iTunes, or direct download.
style="text-align: center; ">"Oh Snap!"
PotterCast gets back to its roots.
Tons of Harry Potter news.
Your Quick Fire Canon Conclundrums.
Sorting Glee characters.
Wizards and Global Warming.
Do Wizards have income taxes?
See your pretty face on PotterCast!
"Why are we going back to sorting? We're going to get killed."
Running Time: 59:38Producer: John Noe
Also, special thanks to our ever-vigilant mods for monitoring the live PotterCast recordings.
LeakyCon 2011: A Harry Potter Conference in Orlando!"Harry, A History" WebsiteJingle Spells 3PotterCast VlogsPodcast AlleyDigg
Direct download.
Low-band Direct download.
Remember you don't need an iPod to listen. Listen easily on iTunes, which you can download and install here, by clicking here to listen, or you can just use the streaming Flash player at PotterCast.com or just on the right side of this page. Discussion of the PotterCast is right here. Enjoy!
Leaky's Harry Potter Twitter list is the most exhaustive collection of news and official Harry Potter information in the world. Be sure to follow it today!